kunanyi/MT WELLINGTON EXPLORER BUS: ONE-WAY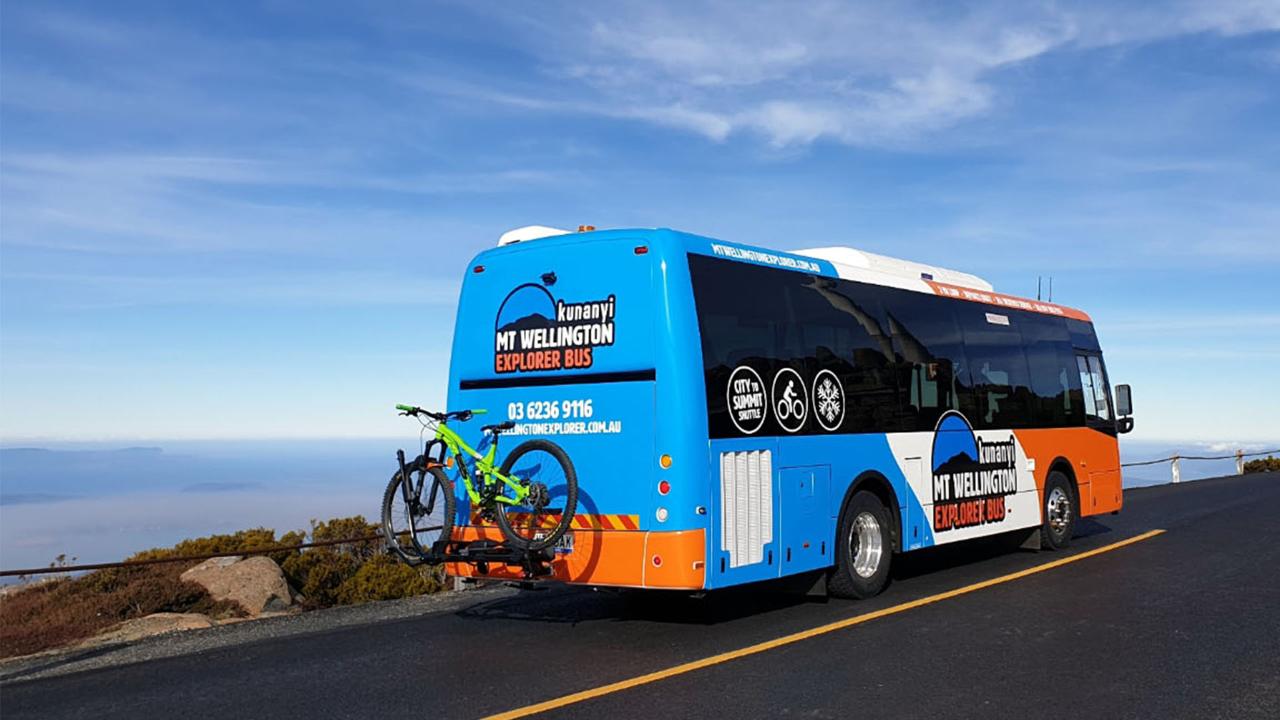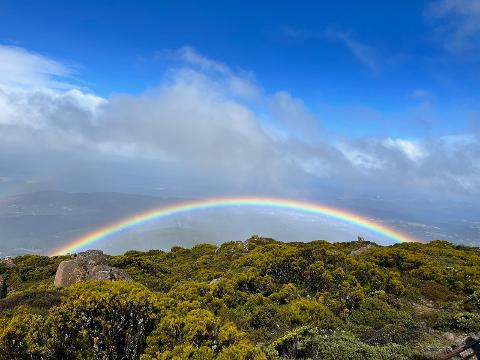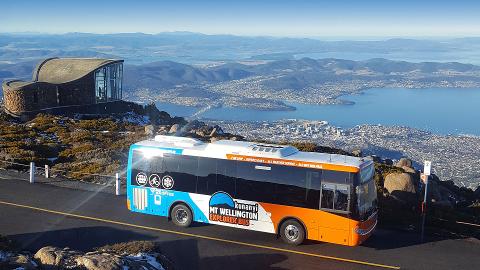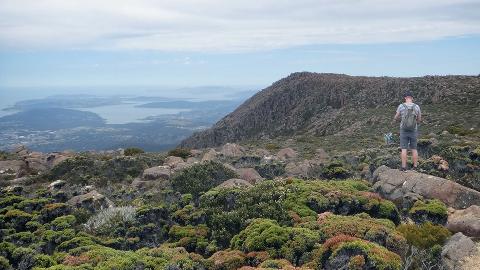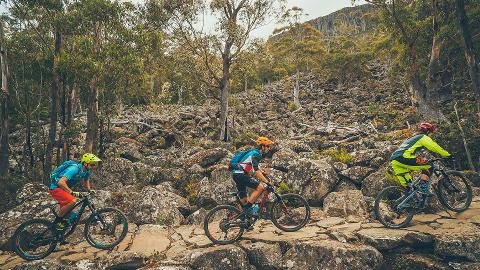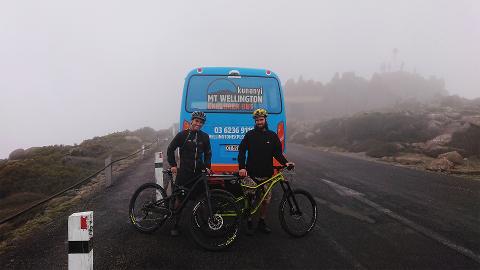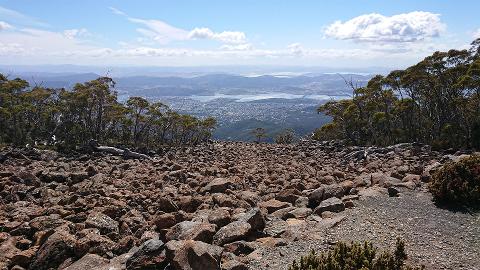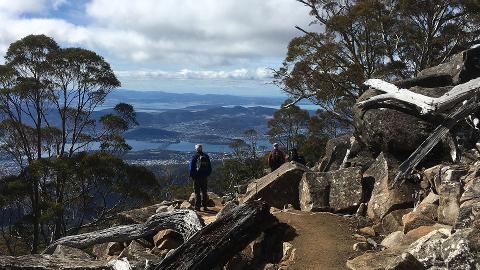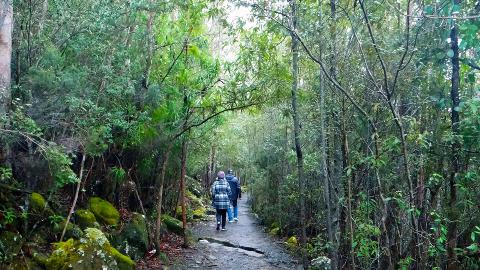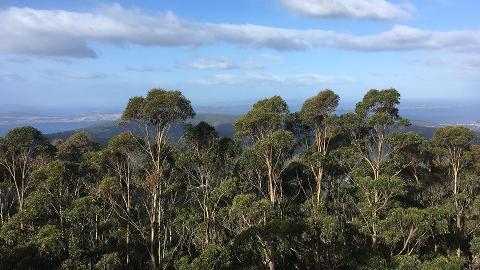 Dauer: 50 Minuten (ca.)
Ort: Hobart, TASMANIA
Produkt-Code: OWBP
City to Summit Shuttle | Departs daily | 50 Minute Tour
kunanyi/Mt Wellington Explorer Bus is the official shuttle bus for kunanyi/Mt Wellington. Tours depart daily from Hobart's waterfront to the summit of kunanyi/Mt Wellington. Rising 1270 metres above sea level, experience spectacular views over Hobart and southern Tasmania.

This is a great option for bushwalkers and mountain bike riders. Take our shuttle bus one-way to the summit, then make your own return journey to Hobart. It's a rewarding 3 hour walk on well-marked bushwalking tracks. Or, bring your own mountain bike for an exhilarating 1 hour ride down the mountain.
The mountain features a surprisingly diverse landscape from shaded fern gullies to tall eucalypt forests and alpine boulder fields. Enjoy the natural beauty and serenity at your own pace.
Enjoy informative commentary from your driver as you learn all about the history and wildlife of Hobart's beloved kunanyi/Mt Wellington. As well as significant landmarks and local tips on what to see and do on the mountain.
Please note: One-Way Passes and bikes are not available on Snow Tours.
TOUR HIGHLIGHTS
50 minute one-way kunanyi/Mt Wellington city to summit tour.
Experience spectacular views over the city of Hobart and southern Tasmania.
Explore the growing network of bushwalking tracks and mountain bike trails throughout Wellington Park.
Make your own return journey from the summit of kunanyi/Mt Wellington to Hobart. Go for an adventurous bushwalk or exhilarating mountain bike ride.
The easiest way to get to kunanyi/Mt Wellington.
A perfect half-day shore excursion for cruise ship passengers arriving in Hobart.
TOUR DETAILS
Duration: 50 minute one-way tour from Hobart to kunanyi/Mt Wellington.
Walk from The Pinnacle to Hobart: Approx. 3 hrs (13.6km)
Mountain bike from The Pinnacle to Hobart: Approx. 1 hr (17.8km)
Departure Point: Brooke Street Pier and Opposite the Tasmanian Travel & Information Centre, 4 Elizabeth Street in Hobart (outside the Hydro Tasmania building).
If you've booked bike freight, your bike MUST be loaded at the Brooke Street Pier pick-up point at least 20 minutes prior to departure.

Availability: Tours operate 7 days a week, all year round. Closed Christmas Day (25 December).
Includes:
One-Way Pass for kunanyi/Mt Wellington Explorer Bus.
Professional and informative commentary.
Complimentary Wellington Park bushwalking map.
Free Wi-Fi available onboard the bus.

SUMMIT TO CITY OPTION

If you prefer to walk or bike-ride uphill rather than downhill, simply purchase a One-Way Pass from the driver to return to Hobart on the bus. Departure times from The Pinnacle:
SUMMER (October – April)*: 11am, 12.30pm, 2pm, 3.30pm, 5pm
WINTER (May – September)*: 11am, 12.30pm, 2pm & 3.30pm
*Timetable may vary on snow days.

GOOD TO KNOW
Pre-booking is essential for this tour.
The temperature on kunanyi/Mt Wellington is about 10°C cooler than the temperature in Hobart city. There's a chance you'll experience four seasons in one day with sunshine, wind and rain - even snow is a possibility! Bring a warm jacket and check the weather before you go.
Visit our Map & Timetable page to plan your day on kunanyi/Mt Wellington. There's also a range of activities listed on our Bushwalking and Mountain Biking pages.
There's limited access to food and water on kunanyi/Mt Wellington. Bring your own or visit Lost Freight Cafe (open 7 days) at The Springs or Fern Tree Tavern (open Tuesday to Sunday) near Fern Tree Park.
kunanyi/Mt Wellington Explorer buses can carry 4 mountain bikes on each departure. To reserve a space for your bike, please make sure to include bike freight ($10 per bike) at the time of booking your bus pass, at least 30 minutes prior to departure. Most importantly, bikes MUST be loaded at the Brooke Street Pier pick-up point at least 20 minutes prior to departure.
Our primary fleet of buses are wheelchair accessible. However, some bus services may not be wheelchair accessible. So it's most important to let us know before your tour. Reserve a wheelchair space when you book. Simply fill in the "Special Requirements" field. Or contact our booking office to discuss any specific needs and we'll certainly do our best to assist. Phone +61 3 6236 9116 or email bookings@mtwellingtonexplorer.com.au. Please visit our Accessible Travel page for further details.
kunanyi/MT WELLINGTON EXPLORER BUS IS COVID-READY
We have developed and implemented a COVID-Safe Business Plan to protect the health and safety of our passengers and staff. All staff have been trained to manage these extra precautionary measures.
What we're doing
All buses are cleaned before and after tours with extra focus on high-touch surfaces.
Hand sanitising facilities are available on board our buses.
We have reduced the passenger capacity for each departure.
Signs are on display throughout the bus to remind passengers to maintain a safe physical distance.
What you can do
Pre-book your tickets online or make a contactless credit card payment on the day.
If you are feeling unwell, please do not board the bus.
Clean your hands with soap and water or hand sanitiser before and after you travel.
Maintain a physical distance of 1.5m between yourself and other passengers prior to boarding and while on board the bus.
Cover your nose and mouth with your elbow when you cough or sneeze.
Avoid touching surfaces inside the bus whenever you can.
Do not consume food and drinks on board the bus.
Observe directions from staff at all times.